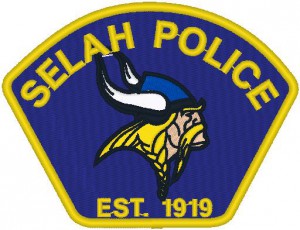 The Selah Police Department is comprised of 15 full time commissioned Police Officers, 2 civilian employees and one limited commissioned animal control officer.  The department also has a Chaplaincy programs with 3 Police Chaplains. 
The department has three divisions; Patrol Operations, Investigations, and Community Services. All of our officers receive extensive training in various areas of crime scene and criminal investigations, interviewing and interrogation, and various specialty areas such as Firearm Instructor, Defensive Tactics instructor, Taser & Pepperball Instructors, E.V.O.C. (Emergency Vehicle Operations Course), and Special Assault Investigations.
The officers and staff of the department are committed to maintaining and providing the highest level of professional police services to our community. The City of Selah is a growing community, and with this growth there has been an increase in the need for our services. We are constantly reviewing and up-dating our methods so that we can stay with and try to anticipate our community needs.
Mission Statement
The mission of the Selah Police Department is to coordinate and form partnerships within the community to preserve the public peace, protect persons and property, to protect the rights of all persons, prevent crime and provide assistance to all citizens. We are "Committed to Excellence".
Philosophy Statement
We the members of the Selah Police Department believe that the protection of life and property is our highest priority, will respect and protect the rights and dignity of all persons and conduct all citizen contact with courtesy and compassion, will strive for excellence in the delivery of police service and will utilize training, technology and innovation to achieve this goal, recognize the department's interdependent relationship with the community it serves and will remain sensitive to the community's priorities and needs, believe that Selah has a unique community spirit and that we are an important part of our community's success, believe that crime prevention, problem solving and intervention are normally preferred to strict enforcement but, when enforcement is called for, the enforcement is done impartially throughout the community, recognize the individual worth of each of it's members, will strive to support, develop and encourage every member to their full potential.