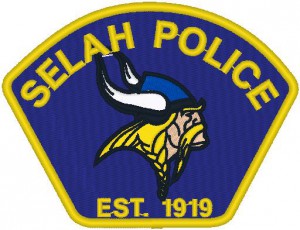 The Selah Police Department is comprised of 18 full time commissioned Police Officers, 2.5 civilian employees and one limited commissioned animal control officer.  The department also has a Chaplaincy programs with 3 Police Chaplains. 
The department has three divisions; Patrol Operations, Investigations, and Community Services. All of our officers receive extensive training in various areas of crime scene and criminal investigations, interviewing and interrogation, and various specialty areas such as Firearm Instructor, Defensive Tactics instructor, Taser & Pepperball Instructors, E.V.O.C. (Emergency Vehicle Operations Course), and Special Assault Investigations.
The officers and staff of the department are committed to maintaining and providing the highest level of professional police services to our community. The City of Selah is a growing community, and with this growth there has been an increase in the need for our services. We are constantly reviewing and up-dating our methods so that we can stay with and try to anticipate our community needs.
Our Policing Principles
Every Selah Police Department employee was involved in developing and building our Mission Statement, Vision Statement, and Values. Every employee's input was considered and our fingerprints are all over these policing principles.
MISSION STATEMENT
We believe our mission is to create a stronger and safer community, by building lasting relationships, resolving conflicts, creating partnerships, and enhancing public safety through the public's trust.
VISION STATEMENT
We will elevate public safety in everything we do, remain adaptive, and improve the quality of life in Selah for generations to come.
VALUES
Every member of the Selah Police Department is part of a team who inculcates our Values in their daily operations.
COMPASSION – We value the sanctity of all life, treat every person with dignity and respect, and we demonstrate an empathetic understanding in our efforts to serve others.
DEDICATION – We value dedication and a strong commitment to provide quality service to our community. Individuals are encouraged to set individual goals for self-improvement.
PROFESSIONALISM – We strive for excellence in our dedication to duty and our quality of service by adhering to the highest standards of the police profession.
ACCOUNTABILITY – We hold ourselves accountable and accept responsibility for our performance and conduct; individually, to each other, our Department, our Government, and our Community.
INTEGRITY – We believe Integrity is the standard in all that we say and do. We exhibit honesty and character through ethical conduct and moral behavior in our personal and professional lives.