Selah Parks and Recreation is excited to provide discs for the par-3 disc golf course at Volunteer Park. Now, you don't have to worry about having the right equipment to play! Be sure to give us a call to check equipment availability!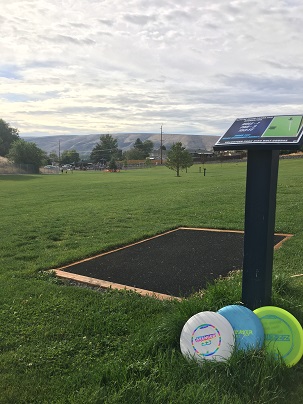 Each spot on this course provides excellent views of the park and surrounding mountains.
Discs are available to rent through Selah Park and Recreation. Call 509-698-7300 for more information.
Or click below for a PDF:
---
Rental Information
Discs are rented in sets of three: 1 driver, 1 mid-range, 1 putter. Individuals, families, and groups can rent more than one set at a time – each player will need their own group of three discs to play effectively. Sets can be rented on a daily, weekly, or monthly schedule. Sets are rented out on a first-come, first-served basis, so be sure to check availability! Rental prices must be paid in full at time of pick up. Click the PDF link below for the rental application and rental details.
Prices:
Daily rate: $5/day/set
Weekly: $25/week/set
Montly: $60/month/set